AutoMAB 450
AFFORDABLE FULLY AUTOMATIC DRILLING SOLUTION WITH MT2
The fully automatic magnetic drilling machine with automatic feed, automatic reverse and automatic shut-off. The AutoMAB 450 is equipped with Morse Taper 2 spindle taper. The AutoMAB 450 automatic magnetic drill machine can drill 45 mm diameter holes in 55 mm cutting depth.
The AutoMAB 450 automatic magnetic drill machine is easy to use and simple magnetic drill machine. It's also simple because there is no need for adjusting speed gears. The advantages of AutoMAB 450 automatic magnetic drill machine are that these machines are independent of the drilling skills of the operators, so even new operators can use the machines easily. Also, due to automatic feed one can get higher tools life i.e. higher performance of annular cutters. Made in Germany technology of automatic magnetic drilling machine.
Tip: For a detailed product review video of AutoMAB 350 by an expert product reviewer from USA please CLICK HERE
The control reliably monitors the drilling process, while the power consumption is displayed through an LED.
A safety cut-out protects the drilling motor from overload.
The high degree of uniformity in the drilling process protects the tool and machine and significantly reduces the risk of the core drill breaking.
Safety control cut-out: If the magnet loses its adhesion, the drilling and feed motors automatically cut out.
The automatic feed is activated by pushing back one of the three handles.
Ideal for drilling automatic as well as manually.
Morse Taper 2 spindle.
Made in Germany.
| | | |
| --- | --- | --- |
| | Watt | 1150 |
| | Volt | 230 - 110/125 |
| | mm | 55 |
| | mm | 45 |
| | ≤ Ø mm | --- |
| | ≤ Ø mm | --- |
| | ≤ Ø mm | --- |
| | ≤ Ø mm | --- |
| | mm | 150 |
| | mm | 84 x 168 x 48 |
| | kg | 16 |
| | | MT 2 |
| | | Industrial arbor 19 mm Weldon 3/4" |
| | | --- |
| | | 2 |
| | min-1 | 250 |
| | min-1 | 450 |
| | | ✔ |
| | | --- |
| | | --- |
| | | --- |
| | | ✔ |
| | | --- |
| | | --- |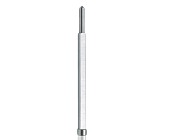 1 Ejector pin ZAK 075 + 100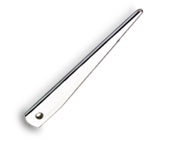 1 Ejector drift MT 2
1 Industrial arbor ZIA 219-KN, 19 mm Weldon (3/4")
1 Allen key size 5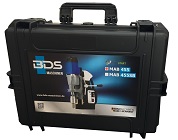 1 Carry case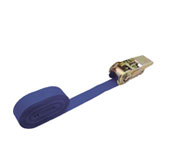 1 Safety lashing strap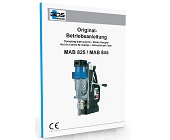 1 Operating Instructions